Distracted driving causes approximately a quarter of all car crashes each year. According to the CDC, at least 9 people are killed because of a distracted driver while over 1,000 are injured per day in an accident involving a distracted driver. Distracted driving is understood as driving while doing another activity that takes your attention away from the road and increases the risk of being involved in or causing an accident.
Using a cell phone to talk or text is among the most dangerous driver distractions. Across the country, most states have taken measures to ban texting and driving. In fact, just two states — Arizona and Montana — do not have a texting ban. In Maryland, all drivers are prevented from using a handheld device and texting. Currently, using a phone behind the wheel is a primary offense, and a person who is caught texting while driving can face a monetary fine; however, several lawmakers believe that the fine doesn't go far enough.
Maryland Seeks Stronger Penalties for Distracted Driving
For the third year in a row, Maryland lawmakers are considering a bill (House Bill 42) that would increase the penalties for texting while driving. Today, Maryland texting while driving laws rely on a tiered system to issue penalties:
$75 for a first offense
$125 for a second offense
$175 for a third offense
The Maryland House of Delegates has approved the bill by a narrow margin of 78-58. If the bill passes the Senate, judges would be able to use their discretion to issue fines of up to and including $500 for a first, second, or third offense texting while driving violation.
Not All Legislators on Board for House Bill 42
House Bill 42 provoked mixed emotions from legislators of both political parties. Those who showed support for the increased fine believe that the current laws are failing to break drivers' bad habits. Many claim that, despite the current fines, they continue to see drivers with mobile phones in their hands.
Opponents of the bill believe that a $500 penalty is too costly for many Maryland residents. As such, they believe the penalty would unintentionally spark further legal issues for these residents who will not be able to pay the fine.
Proponents counter the opposition by pointing out that judges would have wide discretion when deciding the final penalty. They would be able to evaluate the facts of the case to assess a fair punishment based on their findings. Many believe that the current system, which issues a fine of $175 for a third and subsequent offenses, is simply ineffective.
Of all the states which have imposed driving while texting bans, Alaska has the most severe punishment: a fine of $500 for a first offense — down from a $10,000 penalty and up to 1 year in jail. Drivers in Louisiana also pay up to $500 for a first offense and up to $10,000 for a second offense. Some have noted that increased fines do not correlate to increased safety, but are happy that lawmakers are discussing the issue.
Fight your Ticket with a Baltimore Traffic Violations Lawyer
When you get pulled over for a traffic violation, you get more than a citation. If you pay the ticket, you will accumulate points against your driver's license, which can add up and lead to further problems. The more points you accumulate, the closer you get to a license suspension. Break the cycle by retaining an experienced traffic attorney in Baltimore to resolve your violations.
Hillel Traub of The Law Office of Hillel Traub was a Maryland Assistant Attorney General for the Maryland Motor Vehicle Administration before shifting his focus toward helping drivers avoid points and court fines. He has over 20 years of experience helping drivers resolve traffic violations and retain their license. Call 410-580-1100 or email us.
If your license is suspended in Maryland, you cannot drive without committing a serious criminal offense. A license suspension is a temporary ban on your legal ability to drive. If the Maryland Motor Vehicle Administration (MVA) suspended your license, you will need to take action to satisfy the suspension requirement in order to have the MVA reinstate your license. Typically, this involves paying a fine or resolving a traffic citation.
Likely Reasons Your Maryland Driver's License is Suspended
Your license may be suspended for one or more reasons. Among the most common issues that lead to a license suspension are:
Failing to resolve a traffic ticket
Accumulating too many points against your license
Violating a driver's license restriction
Being medically unfit to drive (according to the Medical Advisory Board)
Refusing to submit to a DUI breath test
Driving under the influence
Falling behind in child support payments
The length of time your license can be suspended correlates with the severity of the violation that lead to your suspension. More serious violations lead to longer periods of suspension.
Being without a license can set back a person's entire life. Think twice before worsening your situation by driving with a suspended license and call a qualified traffic attorney in Baltimore to help you resolve the issues standing between you and your driving privilege.
Consequences of Driving with a Suspended License
Driving without a valid driver's license is considered a criminal offense for which a conviction may lead to incarceration and steep fines. The maximum period of incarceration depends on the reason for the crime and considers prior convictions for driving on a suspended license. The state may also impound your vehicle for a period of no more than 180 days.
Working with a Baltimore Suspended License Lawyer
Whether your license is suspended or you were caught driving without a valid license, The Law Office of Hillel Traub is ready to protect your rights. Attorney Hillel Traub has over 20 years of experience helping Baltimore residents reinstate their driver's licenses and overcome criminal charges of driving with a suspended license. See how he can help you resolve your traffic violations by calling (410) 580-1100 for a free consultation.
The highway is a risky place for pedestrians, with cars blowing past at upwards of 80 miles per hour. According to a AAA Foundation for Traffic Safety study, pedestrians who are hurt or killed on interstate highways make up 10% of all pedestrian fatalities each year in the United States. Many who are injured or killed work for emergency service teams that strive to save people's lives. As such, there are laws throughout the country requiring drivers to give these responders more room to do their jobs.
Maryland's own "Move Over" Law requires drivers to change lanes to make room for police officers, firefighters, and emergency medical personnel responding to car crashes. In October, the law expanded to include more types of service vehicles that drivers must make room for when they are on the side of the road.
Maryland Drivers Must Move Over for Stopped Service Vehicles
Move over laws force drivers to make more room for people working on the side of the road. In Maryland, violating the law is considered a primary offense that can result in points against your license and monetary fines. Originally, the law named police, firefighters, and EMT staff as those who must be protected; recently, more service vehicles and personnel were added to the list.
As of October 2018, drivers in Maryland must move over a lane or reduce speed for:
Transportation vehicles
Service and utility vehicles
Waste and recycling trucks with their flashers on
The new law aims to protect more groups of people from becoming highway fatalities.
What Should I Do?
As a driver, all the law requires is for you to move over a lane away from the stopped vehicle when it is safe to do so. If there is no space to get into the adjacent lane, slow down to a reasonable speed that is safe for existing conditions as you pass the stopped vehicle or vehicles.
Penalties for Violating the Move Over Law
Drivers can face steep penalties for violating the law. A move over violation is a misdemeanor crime that can result in a fine of $110 and 1 point against your license upon a first offense. A person who violates the move over law and crashes will face a fine of $150 and 3 points against his license. If the violation results in a death or serious bodily injury, the driver will face a $750 fine.
Call Hillel Traub to Fight Your Traffic Charge
Hillel Traub of The Law Office of Hillel Traub is a seasoned traffic attorney who has helped Baltimore-area residents resolve legal issues for decades. As a former Assistant Attorney General for the Maryland Motor Vehicle Administration, he has the litigation experience you need to achieve a favorable outcome in your traffic case. Call (410) 580-1100 for a free consultation or complete our contact form.
Driving a commercial vehicle is a big responsibility that not everyone is qualified for. Commercial drivers in Maryland are held to a much higher standard than regular drivers. Due to the sheer size and potential danger of large trucks and vans, the Federal Motor Carrier Safety Administration sets strict regulations and rules all drivers with a commercial driver's license, or CDL, must follow. Included in these rules and regulations are a number of traffic violations that can prevent a person from working as a commercial vehicle driver.
Moving Violations that May Disqualify a CDL Driver
Part 383 of the FMCSA Regulations and Interpretations governs disqualifications for CDL drivers. Among the most severe moving violations are:
Excessive speeding. Excessive speeding is when a driver goes 15 mph or more past the posted speed limit. While excessive speeding will generally not prevent a regular driver from keeping his license, a person may be disqualified from driving a commercial motor vehicle (CMV) for excessive speeding.
Leaving the scene of an accident. All CMV drivers must stop if they are involved in a vehicle crash. Fleeing the scene is grounds for disqualification and may also lead to criminal penalties.
Driving Under the Influence. A DUI will lead to a license suspension without the aid of a qualified DUI lawyer in Baltimore. A CMV driver with a BAC at or above 0.04 will be disqualified from commercial driving and will lose both his regular and commercial license.
Other Serious CDL Violations
Using your commercial vehicle to distribute, manufacture, or dispense controlled substances
Using your commercial vehicle to commit a felony offense
Being under the influence of a controlled substance (failing to pass a drug test)
Other Violations
In addition to the violations above, there are actions a commercial driver may take behind the wheel that can lead to other consequences and/or disqualification from driving a CMV. These CDL violations may include:
Following another vehicle too closely
Reckless driving
Committing traffic violations in connection to a fatal accident
Driving a commercial vehicle without

Obtaining a CDL
Carrying a CDL
The proper CDL classification or endorsement

Erratic lane changes
Contact Hillel Traub to Fight Your Violation
Attorney Hillel Traub of The Law Office of Hillel Traub has over 20 years of experience helping commercial drivers throughout Baltimore keep their CDL. He was a former Assistant Attorney General for the Motor Vehicle Administration who has acquired decades of unmatched experience. Call (410) 580-1100 for a free consultation.
DUI laws in Maryland are extremely strict for commercial drivers. Those who rely upon a commercial driver's license (CDL) to make a living must abide by rigid federal regulations due to the nature of their vehicles. Part of these regulations holds them to a higher standard than non-commercial drivers when it comes to receiving a DUI citation.
If you are a commercial vehicle driver, for example, your legal BAC may not exceed 0.04, while the legal limit for everyone else is 0.08. All commercial drivers are treated as such even when they are off-duty; therefore, getting a DUI in your regular car can lead to strict penalties that can impact your job. If you have a DUI in Baltimore as a commercial driver, you are urged to consult a local CDL lawyer.
The DUI "Double Standard" for Commercial Drivers
Consider this: two friends agree to meet at a bar for drinks. One of them happens to be a semi-truck driver in Maryland while the other one works in construction. The semi-truck driver holds a commercial driver's license while his friend does not. After their outing, they both head home in their personal vehicles.
On the way home, one of the friends exceeds the speed limit by a few miles per hour, triggering a nearby officer to conduct a traffic stop. During the stop, the officer asks him to blow into a breathalyzer. The result is 0.06. What happens next?
The construction worker in this scenario would likely be free to go. He might be issued a citation for speeding but not DUI if he was not visibly impaired.
The officer would likely arrest the truck driver instantly for a CDL violation.
Unfortunately, this is the reality commercial drivers face. A truck driver is treated as such even during his personal time. The fact that he did not drive the commercial vehicle at the time of the DUI stop did not deter the officer from issuing a DUI citation. Whether you are in your work vehicle or personal car, a breath test of above 0.04 will result in a DUI citation, and a DUI with a CDL will result in severe punishment.
DUI Penalties for Commercial Drivers in Baltimore
A DUI is typically a misdemeanor offense that can lead to a period of incarceration, steep fines, community service, DUI school, and other penalties. Although non-commercial drivers may apply for a hardship license to get to and from work, this option does not exist for commercial drivers.
Commercial drivers have a tougher time than others when resolving a Maryland DUI. Extra penalties for CDL drivers include:
CDL suspension for one full year
No restricted driving privileges
A second DUI conviction leads to the permanent loss of your CDL
Difficulties being re-hired after the license suspension
Increased insurance rates for all vehicles
A DUI conviction can result in the loss of a person's livelihood, but it doesn't have to. A Baltimore CDL lawyer who handles violations like DUI can fight the DUI charge. As a former Assistant Attorney General for the Motor Vehicle Administration, Hillel Traub has over 20 years of experience helping Baltimore CDL drivers obtain favorable results for their DUI cases. Call (410) 580-1100 for a free consultation.
Have you ever received a traffic ticket and paid it outright? Have you ever gone to court for a traffic offense and been found guilty? If you answered yes to either question, chances are you have points on your license. Point accumulation on your license is highly unfavorable as it can lead to your driving privileges being suspended or even revoked.
With the consequences of having too many points on your license evident, many people wonder whether or not points expire after a certain amount of time. Join us as we explore the Maryland point system, the consequences of point accumulation, and how long points stay on your license.
Inside the Maryland Point System
Every state has a method of tracking licensed drivers' infractions. In Maryland, we use the point system. The system implements consequences for drivers who receive numerous traffic citations with penalties that intensify as the number of points on your record increases.
You'll receive a mailed warning letter after getting three to four points and be required to complete a driver improvement program after five to seven points. The loss of driving privileges comes into picture once you surpass seven points on your license as eight to eleven points will lead to license suspension. Your license will be revoked after receiving twelve or more points.
Although you can receive points for traffic violations, not all infractions will result in points being assessed to your license. Violations the Maryland Motor Vehicle Administration will issue points for include, but are not limited to:
DUI: 12 points
Reckless Driving: 6 points
Driving with a Suspended License: 3 -12 points
Exceeding the Speed Limit by 10 to 19 mph: 2 points
The number of points you receive for a particular infraction may increase if your actions cause an accident.
How Long Points Stay on Your Record
Points will stay on your license in Maryland for two years. The two-year period dates back to the initial date of the violation, and not when the points were added to your license. For example, if you received a speeding ticket on October 1, 2018, but didn't pay the ticket until the final day of the 30-day period, October 31, 2018, the two-year period would end on October 1, 2020.
Each infraction you receive points for has its own two-year period for expiration, meaning that if you were to get and pay another speeding ticket on December 23, 2018, those points would stay on your record until December 23, 2020.
How to Avoid Point Accumulation
The easiest way to avoid point accumulation is by not paying a traffic citation. By paying the ticket, you agree to have the points added to your record. The more favorable option is to have a Baltimore traffic offense attorney fight the ticket for you. Even if the courts don't dismiss or lessen the fine, your attorney can ensure that no points are added to your license.
The Baltimore traffic offense lawyers at The Law Office of Hillel Traub can analyze the facts of your case and implement a defense strategy to help settle your legal issue on the most favorable terms. Contact us today at 410-580-1100 for a free consultation.
One of the most common serious traffic charges is Driving While Suspended or Revoked. One gets their license suspended or revoked for several reasons. Whatever the reason, being unable to drive legally has serious consequences and can cause great hardship.
Suspensions occur when a driver is temporarily disallowed from legally operating a motor vehicle for a specified period of time. Revocations, however, are more serious as they often require individuals to get approval from the Maryland Motor Vehicle Administration before they can legally drive again.
The requirement for getting your license reinstated after having it suspended or revoked varies from case to case. The best way to avoid this affecting you is by being aware of what can lead to you losing your driving privileges. Here are the top 5 reasons why Maryland drivers have their license suspended or revoked.
DUI Conviction
A DUI conviction is punishable by possible jail time, fines, and points on your license. It is also one of the top reasons why drivers lose their driving privileges. Depending on the individuals' driving record and specifics of the incident one's license may even get revoked.  After a conviction and receipt of an MVA notice of Revocation or Suspension, it is crucial to immediately contact an experienced MVA lawyer to assist in helping to retain your driving privilege.
Hillel Traub is experienced at assisting clients charged with DUI. He helps them stay out of jail and retain their driver's licenses.
Point Accumulation
Point accumulation is another common reason why drivers get their licenses suspended or revoked. Maryland drivers can accumulate up to seven points before the loss of driving privileges comes into the picture. Your license gets suspended after 8 points and revoked after 12 points.
Therefore, when you receive a traffic citation, even if you consider it to be a minor charge or too inconvenient to go to court, it is vital that you immediately contact one of our lawyers to represent you. Failure to take care of that ticket or just paying it will result in points being assessed by MVA and the accumulation of points can result in suspension or revocation of your license.
Violating Driving Restriction
Many drivers have restrictions or requirements that they must abide by when operating a motor vehicle. Medical professionals often deem that it is unsafe for some drivers to drive at night while other drivers are required to wear glasses while driving.   Similarly, a drivers age or past legal history can impose restrictions that, if violated, can result in a license suspension. This can require appearance in court and before the MVA.
Unpaid Traffic Tickets
Many people often unknowingly underestimate the seriousness of traffic tickets. When a police officer issues you a ticket, you are required to take action within 30 days; this action can be either paying the ticket or requesting a trial; the preferred option. If you fail to take any action before that 30-day period expires, your driver's license will be suspended. This is true regardless of how minor you think the original ticket was.
Furthermore, if you fight the ticket in traffic court and the court ruling requires you to satisfy a requirement within a specified period, and you fail to do so, you also risk having your license revoked.
Refusing a Breathalyzer Test
When a law enforcement officer stops a driver on suspicion of Driving Under the Influence of Alcohol; (DUI) you are already deemed to have agreed to take a breath test to measure alcohol levels in your system. You do have the right to refuse to submit to an alcohol test but doing so has its consequences. Depending on the circumstances of the incident, you may have your license suspended for anywhere from 45 days to a year.  Once a test is refused or failed, and you are issued a temporary license with your regular license retained by the police you have a very short period of time to take action to protect your legal rights.  It is crucial that you immediately contact one of our lawyers to discuss your legal options and the consequences of your decisions.
Leading a productive life can be seemingly impossible without your driver's license, which is why you should take all of the steps necessary to ensure that you keep your driving privileges. If you are faced with a traffic ticket or criminal charges for a serious traffic offense, reach out to a local attorney who can help mitigate penalties.
The Baltimore traffic offense lawyers at The Law Office of Hillel Traub can help keep points off of your license and lessen charges. Contact us today at 410-580-1100 for a free consultation.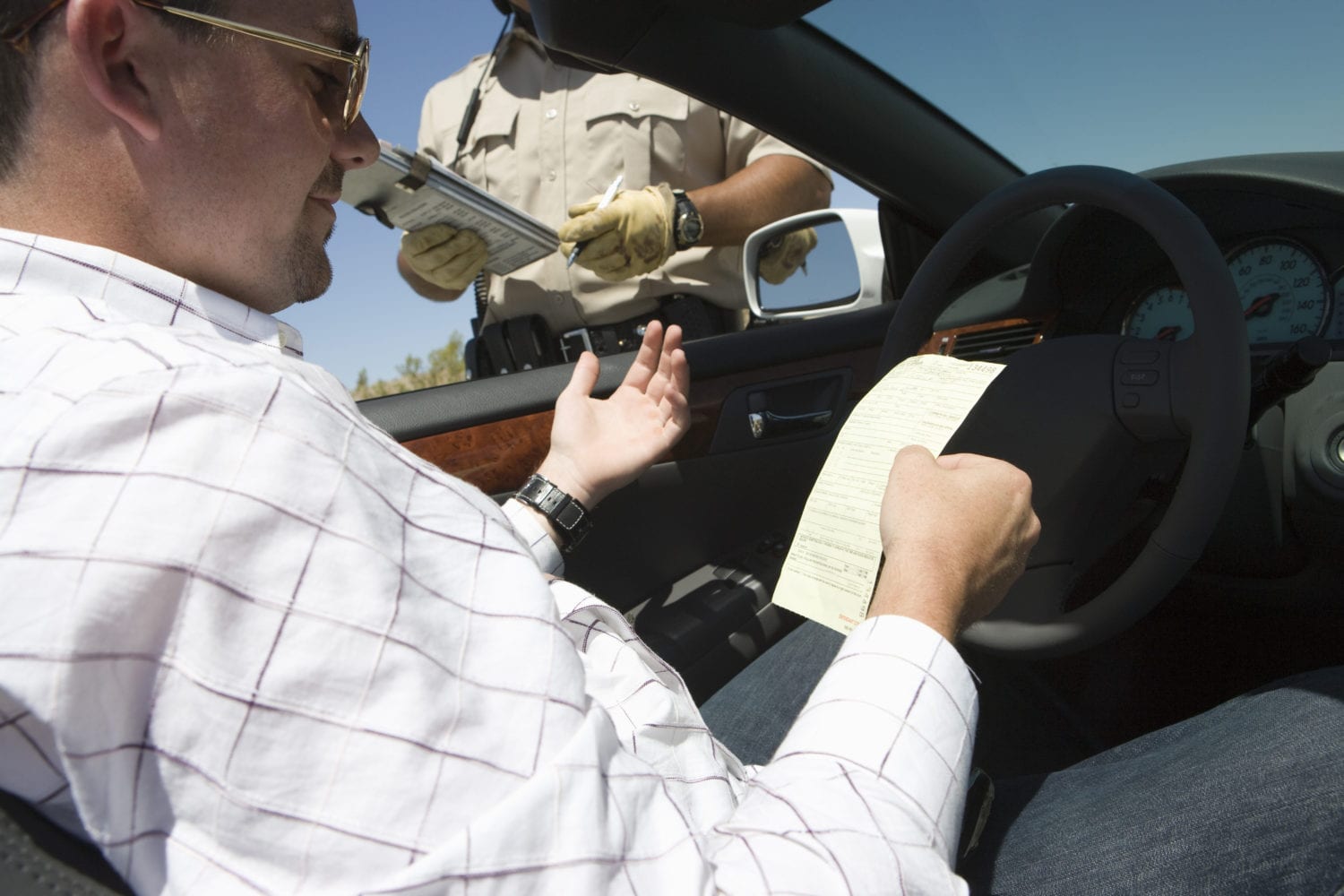 The quickest and easiest way to have your day ruined is by getting pulled over by a police officer and getting a traffic citation. Maryland police officers do this daily, and for commuters, it is an experience they'd prefer to be over with as soon as possible. Not only are you embarrassed about being stopped by the police, but at the end of the exchange, you're stuck with a hefty fine and possibly points on your driving record.
In an attempt to be "good citizens" or "nip it in the bud," many people pay their tickets as soon as possible to avoid further issues. However, your Maryland traffic ticket will state that you need to respond to the citation within 30 days; not necessarily pay it. A better option is to hire a lawyer who can fight the ticket for you. Hiring a lawyer can save you time, money, provide you with a legal advocate, and keep points off your license. Here's how:
Save You Time
If you decide to fight a traffic citation without legal representation, you'll need to appear in court to represent yourself. To do this, you'll have to take time off of work, journey to the courthouse, and sit through all court proceedings.
Before you ever step foot in a courtroom, you'll need to familiarize yourself with court operations, state-specific laws, and appropriate defenses to present. By hiring an attorney, you have someone knowledgeable about traffic laws who can appear in court on your behalf, allowing your day-to-day operations to go uninterrupted.
Perhaps most importantly for many is that Hillel Traub can appear on your behalf for many citations without you having to be present.  That means you do not have to miss work or school to fight yor ticket.
Save You Money
Traffic tickets are expensive. A typical speeding ticket can be upwards of $500 depending on the details of the incident, including how many miles per hour over the posted speed limit you were going. On many occasions, hiring a lawyer is cheaper than paying a fine upfront, and even when it isn't, there's a chance your lawyer can mitigate fines and charges. Paying the ticket is an admission of guilt and will likely result in MVA assessing points to your driving record. In the event your lawyer cannot get the charges dropped, he or she can still possibly get a probationary sentence, the fine reduced and/or the points withheld.
Fight For Your Rights
As a licensed driver in Maryland, you have rights that you may be unaware of. Your attorney is not only there to help you understand your rights but also to ensure that they are protected in court. An experienced traffic offense lawyer can point out the intricacies of your citation that an average person would likely overlook and use missteps in the ticketing process to see your charges lessened or even dismissed.
Keep Points Off Your License
The most advantageous aspect of having a lawyer fight the ticket for you is the possibility of no points being added to your driving record. When you pay the citation, you admit guilt and accept that points will be added to your license. Your attorney can challenge every aspect of the case and fight for lesser penalties.
When it's not possible to dismiss your case, your traffic attorney can negotiate for you to simply pay the fine while ensuring that you don't accumulate points against your driver's license.
The Law Office of Hillel Traub is here to help you. With over 25 years of experience, Hillel Traub understands what it takes to successfully combat a traffic citation and will handle your case with careful and meticulous hands. Hillel has defended hundreds of clients in similar situations with very favorable results. If you are facing license suspension, revocation, or even hefty fine, contact us today at 410-580-1100 for a free consultation.
"Driving is a privilege and not a right" is a commonly repeated phrase. While you may have heard this when begging to take the car out as a teenager with your restricted permit, it becomes much more relevant as an adult.
Having your license suspended and revoked are actions the state can take against you for various reasons; however, people are often unaware of the difference between the two. While they both result in you losing your license, one is way more problematic than the other. The most ominous difference is that a suspended license is temporary, but a revoked license is possibly permanent.
Suspended Driver's License in Maryland
A suspended license is one that you cannot use for a set period, thus driving with a suspended license is illegal. One may have their license suspended as a result of any of the following:
Being medically unfit
Not paying a traffic ticket
Getting a DUI/DWI
Declining an alcohol breath test
Violating a driver's license restriction
Accumulation too many points (another reason not to "just pay out a ticket")
A license suspension ends at the conclusion of the suspension period and after the driver has taken any steps necessary for the return of his or her license. However, a suspension can be indefinite unless the driver takes the necessary action which can be anything from paying a traffic ticket to arranging child support.
Revoked Driver's License in Maryland
A revoked license is canceled and may never be reinstated. Licenses are often revoked due to:
Medical conditions
Serious traffic offense conviction
Too many points accumulated
An individual with a revoked license who wishes to drive again legally must get the approval through the Maryland Motor Vehicle Administration. A reinstatement application must be filed with the MVA.  If the Revocation is from the Medical Advisory Board ("MAB") the application is extensive.
Insurance Considerations for Suspended or Revoked Licenses
Your insurance policy will likely get non-renewed if you get your license suspended or revoked. Finding car insurance without a license is possible but can be extremely difficult and once you find an insurer, you can expect to have to pay much more for your plan than before.
Getting caught driving with a suspended or revoked license does not only result in legal ramifications, but your insurer will most likely cancel coverage, require that you enroll in a new, more expensive plan, and spike your rates.
Losing the freedom to drive can be a crippling feeling as it limits your mobility to ridesharing or public transportation which can be costly. The Baltimore motor vehicle offense lawyers at The Law Office of Hillel Traub are here to help you get you back on the road. Hillel Traub has experience handling numerous license suspension and revocation cases and leading the case to a favorable conclusion for our client. Contact us today at 410-580-1100 for a free consultation with a knowledgeable attorney.